As much as I love this boat and want to finish off the easy bits, I'm changing my business/life plans and have decided that FE boat's are too time consuming for me as I just can't help but take things too far. I figure I'll put this project up for grabs for some lucky builder to finish off with your own personal touch. My family life is more suited to bashing trucks out the bush and my wife would much rather see me and our boy's running around in the dirt rather than me having all the fun and her chasing the kids.
If anyone has a nice hopped up Losi 5iveT they'd be willing to trade, I'd be set. Other than that, l sell this unfinished dream boat for only , $1850au shipped anywhere in OZ.(three sets of props, cooling cans and other bits and peices added since I posted), this project has set me back just under $2500au so far so you'll save lot's for all my effforts so far, I wish it a good home.
I have taken my time with this hull, only working on an area when I was confident with my building skills learnt through other builds and my main focus has been on space and COG Adjustability, with the room in the sponsons you'll never go wrong cog wise. I've been ready to knock this over for a while but family circumstances have seen otherwise and now my desires are more for the dirt. The hull is an Aeromarine .80/.90 sprint cat I had shipped from the states along with most of the other components. It comes with a Speedmaster dual water pick up rudder system with a 4" setback and two Aeromarine struts (with supplied bushings) that are mounted ready to run the supplied 1/4" k&s brass tube through after making and installing the supplied 9/32" k&s brass stuffing tube (to be used with octura .187 flex teflon). Or just run 1/4 all the way to the coupler for use without a teflon liner. I removed the unwanted stringers and reinforced the hull with carbon fiber cloth and Zpoxy finishing resin. I left the front ply hull support under advice from Remy (Aeromarine) and it's now come in very handy acting as a front/center bolt hatch lock that when used in conjuction with the rear bolt and a few strips of hockey tape, should be more than enough to keep the lid on. I fitted a James Williams motor mount using cut 4-40 rod through drilled holes in the bottom of the mount and then applied a carbon fiber/ Zpoxy 30 minute paste. I have dremeled the area clean and smooth and is ready to lay the supplied carbon/kevlar cloth to both reinforce and finish the interior. I have JB weilded the carbon trays used as esc mounts into place and they too are ready to for finishing. The rear tunnel battery mount was made by preparing a length of aluminium T-section and JB weilding carbon trays on each side. Then I cut a slit in the aluminium a fraction narrower than a 3/16" bolt and hammered a 3/16 rod into place and finished it with JB weild. The complete battery tray was then jb weilded to the tunnel with both the carbon and aluminium being contact points with the hull for added strength. The bolt acts as both a lipo bolt and rear hatch support and is 3/16 in size as with the front bolt. Also suppied will be 5mm thrust bearings and spacers, Aeromarine 5mm > 3/16 couplers, a counter clockwise rotation Jeff Wohlt 3/16 flex shaft, a clockwise rotation Jeff Wohlt flex shaft, Octura large drive dogs, shaft nuts and bullets, installed aluminium water cooling tubes for the motors from the rudder and two brass tubes that I've drilled holes for and bent into shape but yet to cut that will become water pick ups for the esc's. The hull had one small drop onto the rear corner that won't be an issue once filled and painted, you can see very close pic's in my build thread.
The two Castle Creations 1717 1580kv motors are unused as with the two new Turnigy Aquastar 240amp Esc's that have had the wires cut to length to fit when mounted and 8mm castle connectors soldered and heat shrunk. To get you moving once finished I'll put in a matching pair x447 and x447r from OSE that are balanced and sharpened, they'll be good for testing. A matching pair of Dasboata worked X450/3 & X450/3r and a matching set of Prop Shop 5017/3 & 5017/3 that Dasboata has balanced and sharpened and cut back to approx.47mm.
As you can see, theres not a lot left to do, pay me, finish it, pull the trigger and paint it however you wish, just do it, she won't mind, lol.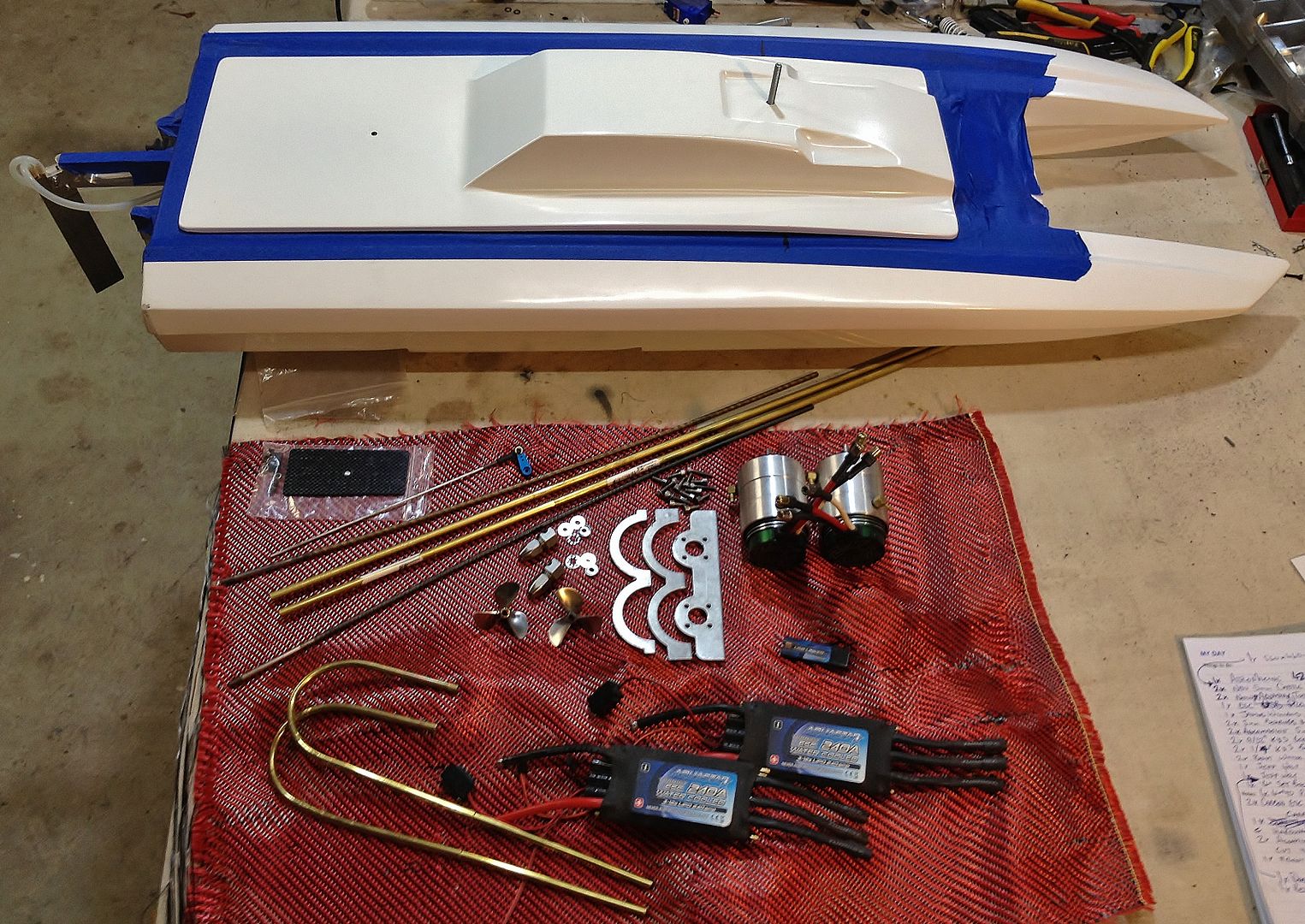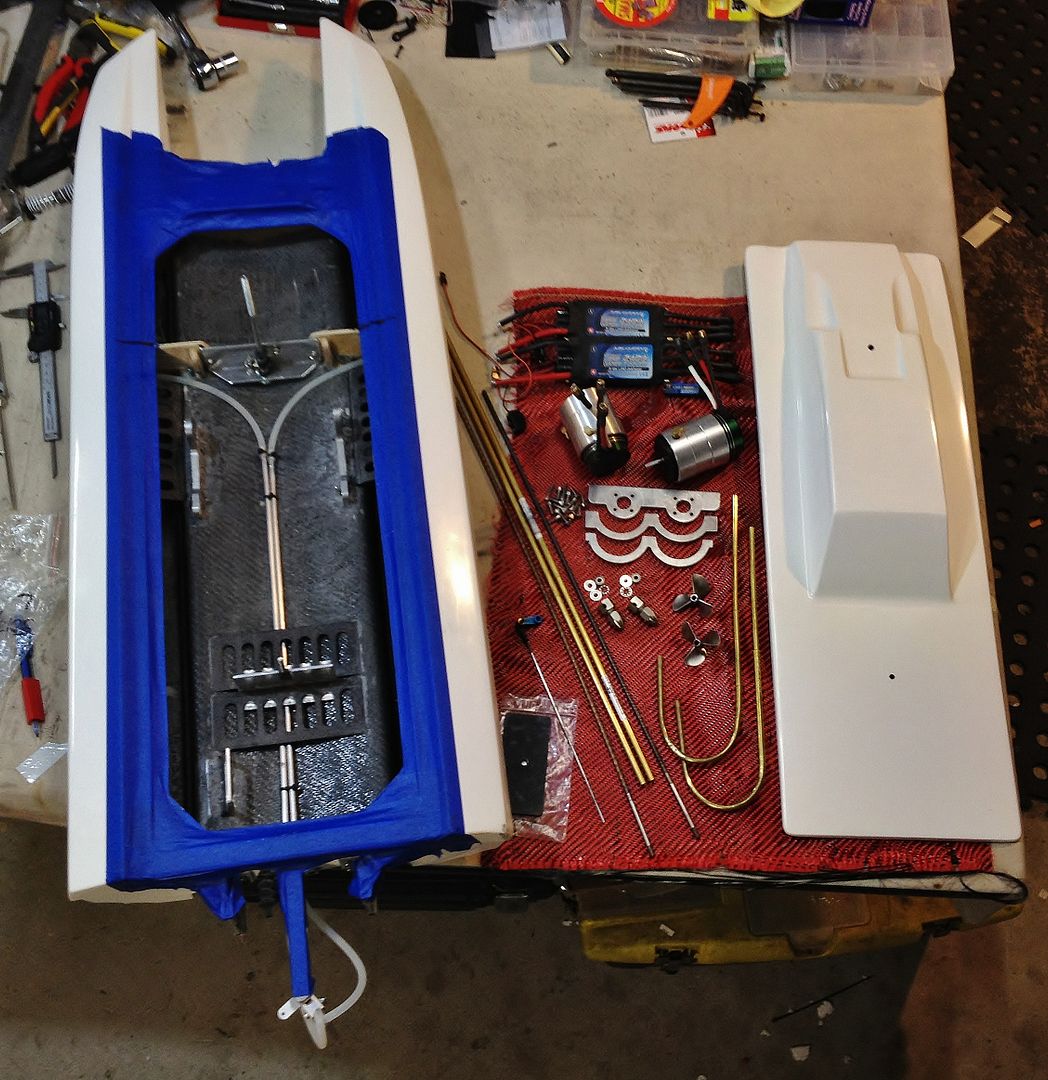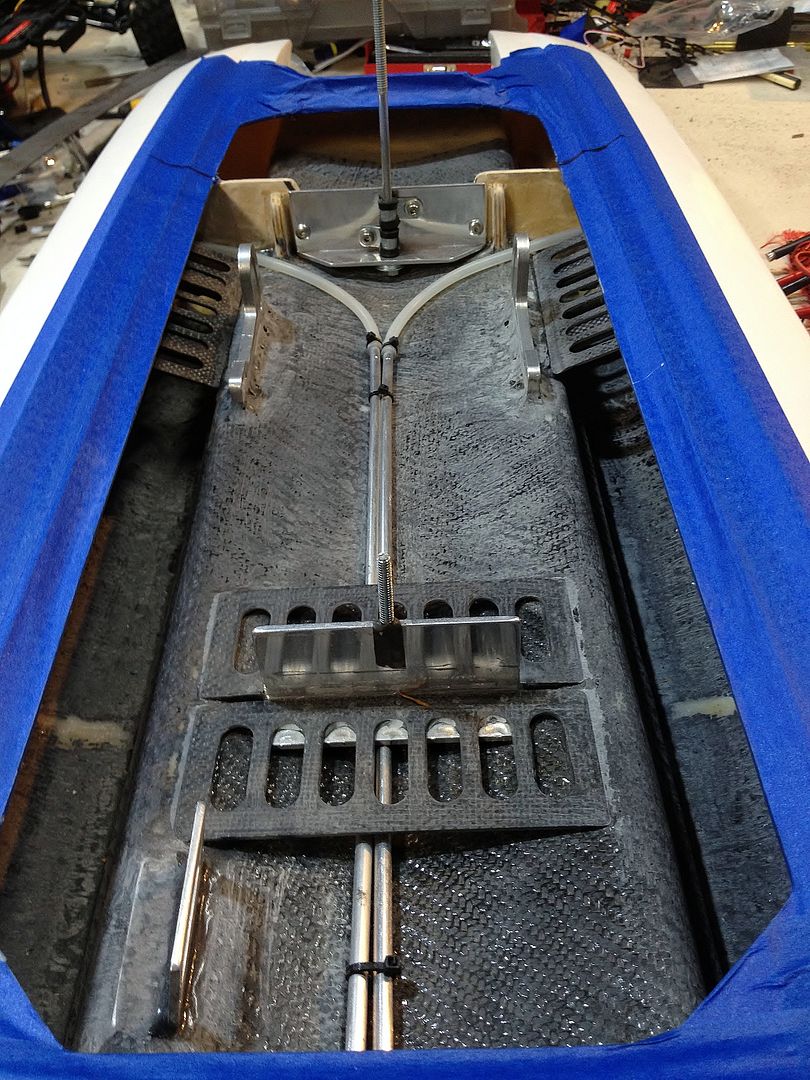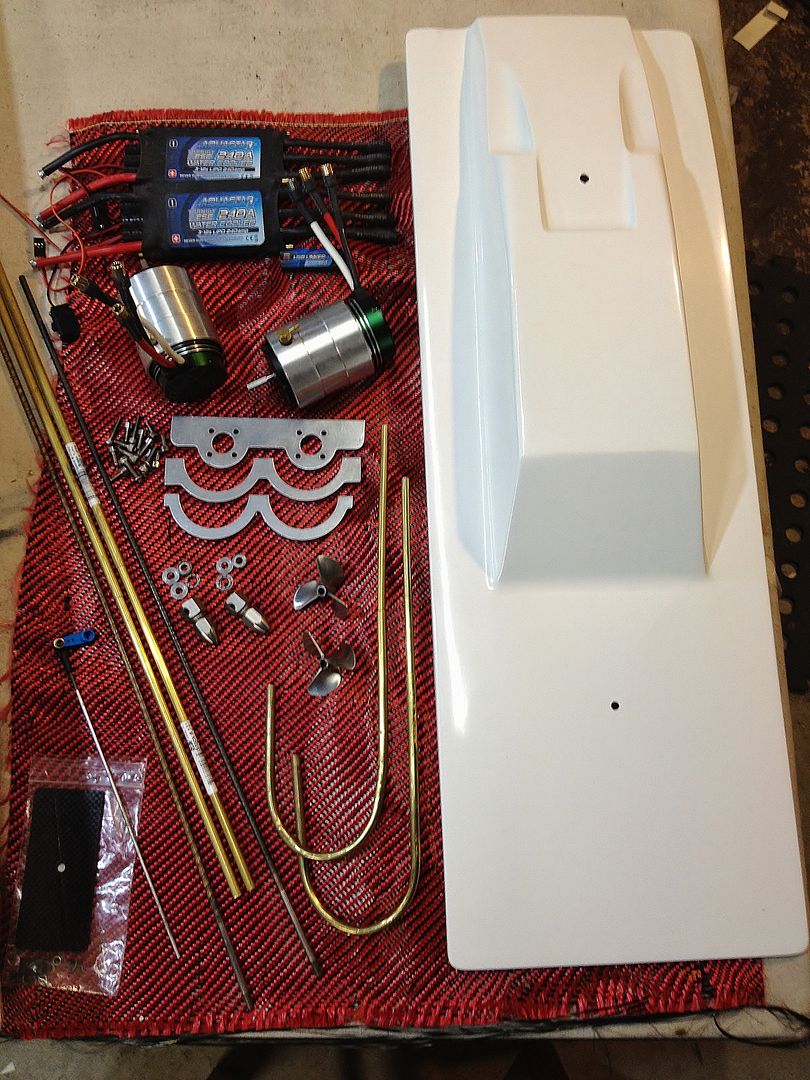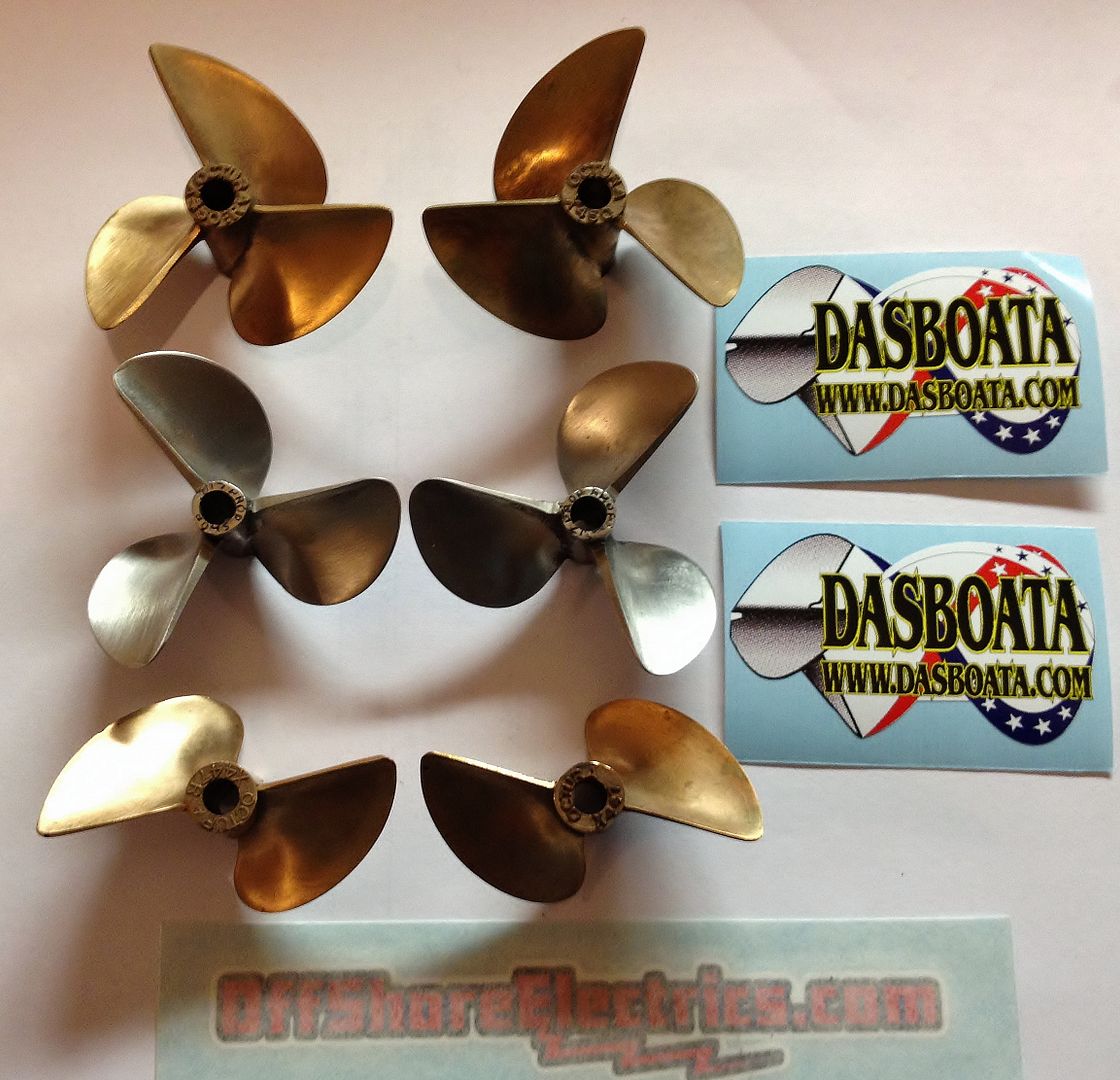 $1850au delivered in Australia
For further details see my build thread here
http://forums.offshoreelectrics.com/...7-s&highlight=
Or don't hesitate to PM me or call 0458875569 - believe it or not but I hate to type, lol.